Bilet Online is a popular Russian online travel agency providing a standard set of services to their customers: air ticket booking, railway ticket booking, hotels and car rentals.
After we presented our usability works for Aeroflot at a number of professional conferences, several OTAs approached us for assistance in improving usability of their websites. One of them, Bilet Online travel agency asked us for a complete redesign of their website since they fully realized that their website was really bad and any gradual improvements were not the case for them.
Although we already analyzed a number of leading OTA websites (including Travelocity, Orbitz and Expedia) and included them into a large competitor comparison matrix during our work on the Aeroflot website project, we started new massive analysis of best OTA and travel aggregator websites and carried out a thorough literature search on recent developments and trends on this market (an archive of specialized online travel industry magazine Travolution was of great help). Based on this, we developed a set of 78 domain-specific usability guidelines for the whole booking process, including initial flight search form on the homepage, results pages, sorting and manipulation of results, flight confirmation, cross-selling and checkout. We also interviewed fifty existing Bilet Online customers to better undestand their needs and expectations.
After that we became fully prepared to produce the complete redesign of the website setting an ambitious goal of designing the best ticket booking engine on the highly competitive Russian online travel market. The 37-page design document we produced included 40 wireframes with detailed descriptions allowing web developers to implement all pages of the website.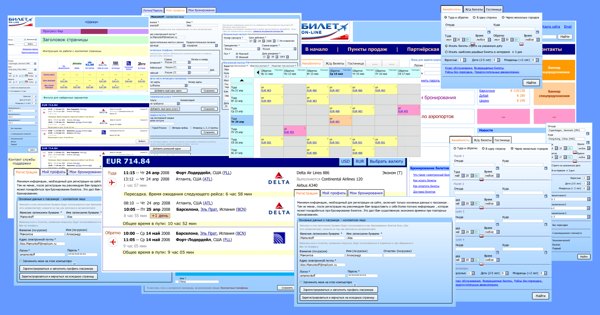 Several months later, we conducted designer's inspection and eyetracking-based usability testing of the beta version of the website.