Portfolio
Bilet Online Mobile Application : User Interface Design
Bilet Online is a popular Russian online travel agency providing a standard set of services to their customers: air ticket booking, railway ticket booking, hotels and car rentals.
The challenge
Online air ticket booking is a cognitively complex task even on fully-functional internet-access devices such as desktops, representing a repetitive multi-parametric search in the flights database and then browsing long lists of flights found, consisting of different carriers, dates and times to create an optimal combination of outbound and inbound flights. The development of mobile ticketng system for airline travel became a challenging task for the MTS, Russia's largest mobile operator, and popular online travel agency Bilet Online. Fortunately, the parties were clever enough to understand that usability engineering would be the key to their system's success.
Our work
From the very beginning the parties realized that a mobile air ticket booking system has no chances to become a mainstream, mass-market product to be used by everyone, so studious efforts had been made to define the target group of prospective users of the air m-ticketing system. The resulting prospective customer profile that guided further development of the guidelines and interface design looked as follows: (a) frequent business traveler, (b) experienced in air travel and familiar with its peculiarities, (c) mainly travelling between limited number of familiar airports, (d) travelling mainly alone than in group, (e) high degree of technology self-efficacy individuals.
We developed a list of domain-specific guidelines for mobile air ticket booking applications, scenarios of use, and a wireframe design for mobile air ticket booking system.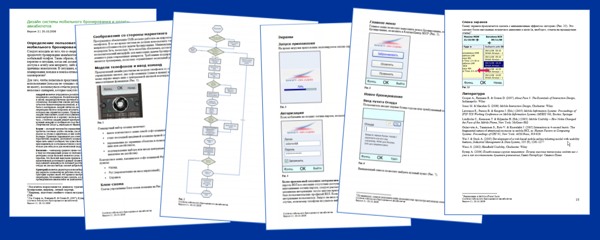 Design document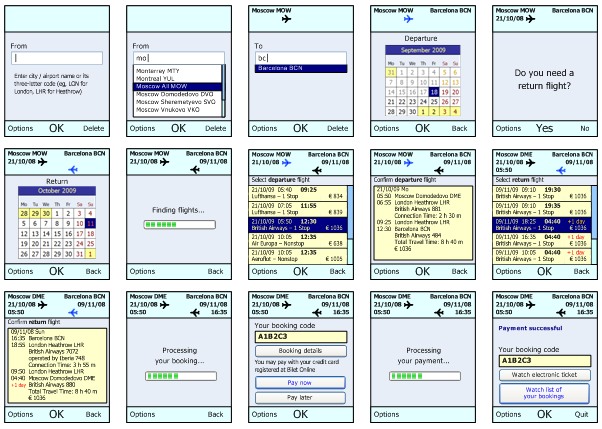 User interface design